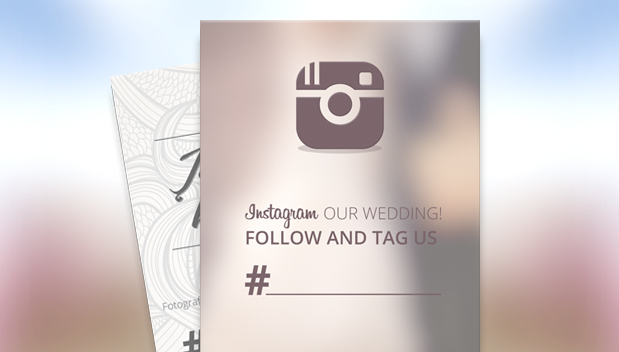 Professional wedding photo shoots are still in demand, but today's mobile technologies are changing the way we understand photography. Every wedding guest can now become a photographer and instantly share the festive moments on social networks. Your guests will probably be taking spontaneous pictures with their mobile phones anyway, so ask them to contribute to a unique photo gallery of the celebration. How? With a little bit of planning, you can use Instagram to collect great wedding photos and make this entertaining for everyone.
Step 1:
Think of an Instagram hashtag for your wedding. Choose one that's short and isn't already in use, such as: #johnkate, #0715love, #ktwedding.
Step 2:
Now you need to let your guests know you've created a special Instagram gallery for the big day. Print a photo canvas with a message or simply write it on a blackboard or a poster. The message could be something like this:
If you Instagram, tag our wedding #johnkate.
Instagram our wedding! Follow and tag us #johnkate.
We love Instagram! Do you? Tag tonight's photos #johnkate.
You can also print small cards with the message and hand them out to your guests, leave them on tables, etc. Above all, they should feel encouraged to enjoy the process and take lots of lovely photos.
Step 3:
How about showing those Instagram snaps live on a screen during the actual wedding? Eventstagram offers a way to display up to 500 Instagram photos for six hours. Your guests will definitely love watching their photos appear for everyone to see.
Step 4:
When the wedding is over, put all the tagged photos in a photo book and print its copies for the most enthusiastic mobile photographers. Upload photos straight from Instagram or your computer to ZOOMBOOK's Bookmaker. Add captions, thank yous, try out various photo layouts. After you've ordered your photo book, you can also share its preview with your friends on Facebook or Google+ profiles – for free!
Try something new for your wedding; maybe even your sceptical grandma will be curious about Instagram photography? Oh, and don't forget to look up from your mobile device and actually enjoy the occasion.