If you're on a lookout for fresh home decor ideas, you'll know that finding a decent picture to suit your taste and interior can be a daunting task. More often than not, the city panoramas or abstract paintings offered in shops leave you unmoved. Especially when you consider that hundreds of other people will hang that same picture in their homes. Dare to be original and make a custom photos canvas yourself, one that you'll be proud of! There are many canvas printing services out there to help you mount your canvas on a sturdy frame. But first, get inspired by these ideas and see what would work best for your home.
FRAGMENTS OF INSTAGRAM
It's all about the little things and treasuring the ordinary moments day to day. Put together a large photo canvas with a collage of small Instagrams and hang it in your living room, bedroom, or workspace. Try coordinating the colours for a more harmonious look.
FAMILY PORTRAITS
I'm sure there are at least a few framed family photos on your nightstand or mantlepiece, but there are more creative ways to display them. Go through your photos once more and choose the most heart-warming family portraits or group pictures for canvas prints. Make several differently sized canvases, arrange a composition, and decorate the empty walls with smiles of your loved ones.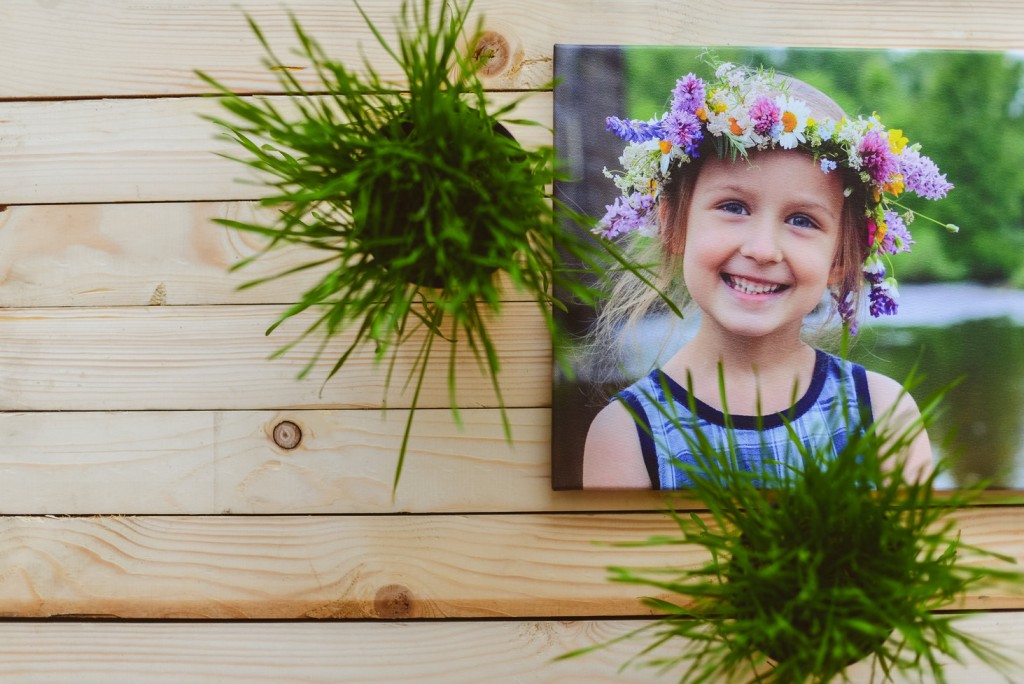 HOUSE RULES
Every household has a set of rules, obvious or unspoken, that the family lives by. That doesn't necessarily have to be reminders about chores, such as "Do the dishes" or "Pick up your socks". Write the values you all believe in, insert fun phrases too, e.g., "Try everything twice" and "Bedtime negotiable". You'll find plenty of ideas for house rules on the web, but try drafting your personal ones first.
YOUR CHILD'S ART
Fortunately, not all children are completely mesmerised by smart devices, and some of them still love drawing. If you too have a little da Vinci in your family, don't let his drawings collect dust in a drawer. Scan or photograph the best ones and transfer them onto canvas prints. This is a both a great decoration for your child's room and a delightful gift for the grandparents. The alphabet, names of animals or favourite cartoon characters on canvas will brighten up your kid's room too.
INSPIRING QUOTES
Sometimes, all you really need to make your day is an uplifting thought. Think of an inspiring sentence yourself or borrow a quote from someone else and put it on a canvas. If you're a fan of cinema or music, take a few lines from your favourite picture or song. Motivational quotes like "Dreams don't work unless you do" and similar ones will look great your office.
PRAISE THE PETS
Is your loyal dog over the moon every time you come home? Does your cat calm you down with soft purrs and keep you company on cold winter evenings? Then it's definitely worth to dedicate a canvas print for your beloved pet. Choose a lovely photo of your four-legged friend or take a new one together. You may also add some words about your pet's role in the family.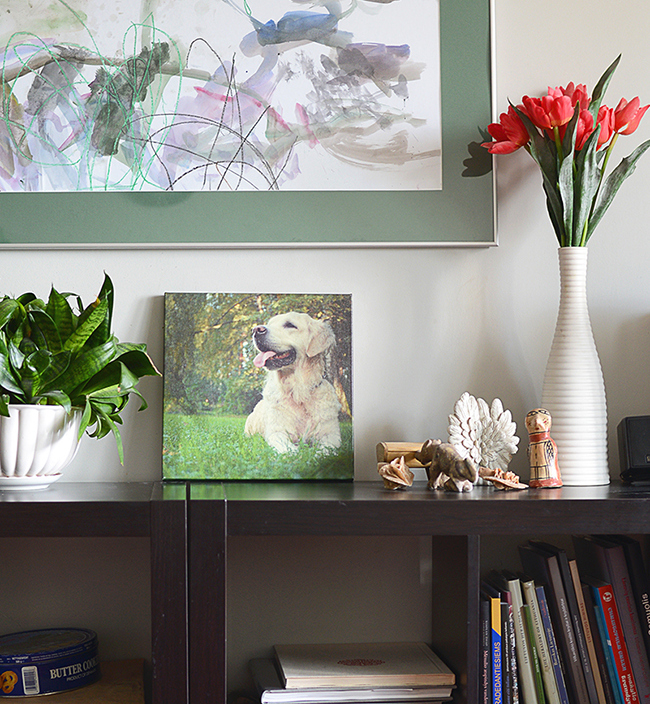 VACATIONS REVISITED
Got a few fascinating photos from your previous trip or memorable holiday? Pick the most awe-inspiring landscapes, medieval castles and old towns, or simply the best moments with your friends. If you can tell an interesting story through your prints, your guests will definitely compliment your home.
KISS THE COOK
It's not just stylish utensils or herb pots that can give your kitchen a fresh look. Create a couple of small photo canvases with photos of your tasty dishes, close-ups of food, or fun kitchen puns (Just roll with it!). Traditional family recipes or cooking tips on canvas is also an original way to encourage cooking at home.
There, I hope you're already looking around your room for an empty wall to fill! Most importantly, don't be afraid to experiment and get creative. Remember what Einstein said: "Logic will get you from A to B, but imagination will take you everywhere". Next time we'll illustrate how to hang the canvas prints you've made, so make sure you follow us!