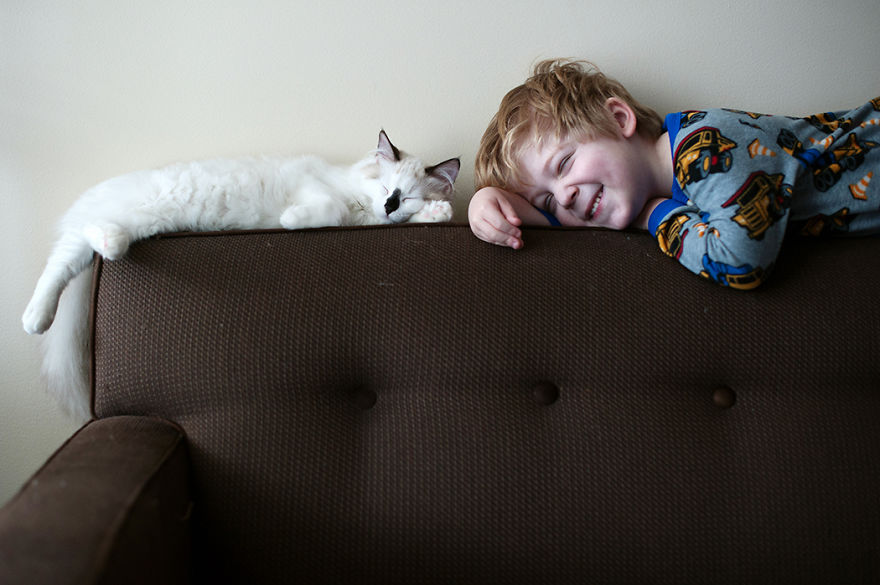 Once in a while you come across a photography project that truly makes your heart melt. Beth Mancuso, a photographer and mum from Minnesota, has been taking adorable photos of her sons and their two ragdoll cats, Lucy and Irie. What started as a casual documentation of their daily lives, turned into a purrtastic project called "A Boy and His Cats". The siblings and their feline friends seem to share an incredible bond and that's what makes the series so endearing.
Beth says her sons are obsessed with cats, not only the ones they snuggle up to every day, but also Grumpy cat or the Animal Planet TV Show "Too Cute!". For his 4th grade history project, the eldest son chose Bill Clinton just because he had a cat named Socks. "Anyone can love a dog but loving cats takes patience and compassion, and it is my hope that my boys are learning both these things from our beloved cats," Beth adds.
The behaviour of cats can be unpredictable, so Beth tends to spontaneously capture the moments with her phone. It's really a matter of being in the right place at the right time. Nevertheless, some of the photos were composed on purpose and they too help tell this beautiful story of friendship. Beth says she plans to continue the project until either the sons or the cats leave the family home. Hopefully, we'll get to see plenty of these cosy moments in the future!
For more heart-warming images, check out Beth's Instagram @manicmotherphotography.